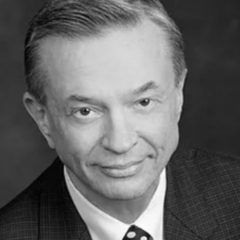 Dr. Michael Evans
Dean of the School of Nursing at Texas Tech
Dr. Michael Evans is Dean, Grover E. Murray Professor and holds the University Medical Center Endowed Chair for Excellence in Nursing at the Texas Tech University Health Sciences Center School of Nursing. Dr. Evans assumed his current position at Texas Tech at the beginning of January 2012. Prior to coming to Texas Tech, he was the President and CEO of Barnes-Jewish College and Founding Dean of the Goldfarb School of Nursing in St. Louis for 5 years. He was in hospital administration for 25 years before his career bridged to academic administration. Prior to moving to St. Louis, Dr. Evans was with Texas Health Resources for 12 years, first as Chief Nurse Executive of Presbyterian Hospital of Dallas and then as the system's first Chief Learning Officer. Prior to joining THR in 1995, Dr. Evans was Chief Nursing Officer at St. David's Health Care System in Austin, Texas for 7 years and Chief Nursing Officer at Northwest Texas Health Care System in Amarillo, Texas for 6 years. He has served as adjunct faculty in a variety of colleges and universities throughout his career.
Dr. Evans holds a Bachelor of Arts degree in English from Texas Tech University, a Bachelor of Science in Nursing from West Texas State University, a Master of Science in Nursing majoring in Nursing Administration and Nursing Education from the University of Texas Health Science Center at Houston and a Doctor of Philosophy (PhD) in Nursing Systems Administration from the University of Texas at Austin.
Dr. Evans served as President of the Texas Nurses Association and was on the board of directors of the American Nurses Association for 8 years, first as Chair of the Constituent Assembly, then as Secretary and then Treasurer. Dr. Evans completed two terms as President of the American Nurses Credentialing Center, the largest nurse credentialing organization in the world, providing individual credentialing in nursing specialty certifications and organizational credentialing through the Magnet Hospital Recognition Program and the Pathway to Excellence Program.
He is board certified as Nurse Executive, Advanced by the American Nurses Credentialing Center and is board certified in healthcare management and a Fellow of the American College of Healthcare Executives. Dr. Evans is also a Fellow of the American Academy of Nursing.