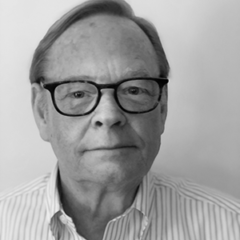 DeLancey Smith
DeLancey Smith was Assistant Professor, Communications Division, St. Louis Community College for over ten years. During that time he helped develop the college's curriculum in mass communications. He then joined Busch Creative Services Corporation, a wholly-owned subsidiary of Anheuser-Busch Companies (A-B), where he created the department of video services. He led the company's development of internal video production for training, marketing and commercial production. He initiated the acquisition of Innervision, the St. Louis region's largest television production facility, and the acquisition of Optimus, one of the largest television post-production houses in the country.
Following his work at Busch Creative, he joined Ervin Marketing Creative Communications in St. Louis where he served as President for 20 years. During that time he helped develop marketing communications campaigns for over 200 clients, including Hallmark Cards, Ascension Health, SSM Health, Ford Motor Company, Pepsico, Harbour Group, Capital For Business, Baxter Healthcare, Unisys Corporation.
Smith re-joined St. Louis Community College in 2010 as Director of Communications and retired from the system in 2014. He joined Viven Health in 2014 as a marketing communications consultant and advisory board member.